Soils and Contaminated Land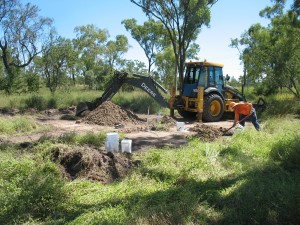 In the seasonally arid tropics, the constant cycle of wetting and drying leads soils to become weathered, sodic and eroded. The relatively high rates of evaporation can also cause salinity to build up in surface soils, reducing crop yields and agricultural efficiency. Over time, soils may also become contaminated with pesticide, fertiliser and other chemical residues. This can reduce land value and may cause problems if the chemicals leach into the groundwater or nearby creeks and rivers.
C&R Consulting (C&R) are experts on the properties of swelling clays and soil dispersivity. We specialise in the identification and treatment of sodic and eroded soils, and can recommend cost effective remediation techniques for contaminated land. Our knowledge and experience in soils and chemistry support a range of services, including: 1) clay, mineralogical and forensic studies; 2) assessment of soil properties for agricultural purposes; 3) design of effective treatments for improvement of physical properties of soils; and 4) definition of contaminant origins. Peruse our diverse project experience below – or email our rehabilitation expert, Ben Cuff, with your specific requirements.
Isaac Plains Rejects Analysis
C&R were commissioned by Isaac Plains Coal Mine to analyse the quality of reject material and make recommendations for co-disposal requirements with overburden. Geochemical modelling was undertaken on a time-series of reject samples, identifying complex geochemical processes occurring in the rejects. Recommendations were made to minimise potential acid formation (PAF) and manage the rejects and overburden emplacement.

Bedrock Landscaping
C&R aided our client in gaining approval for a quarry development. We provided test results with interpretation and suggested a method for extraction of the contaminated soils in adherence to the legislative requirements.
The objectives of this investigation were to:
Determine if sulfide-bearing soils were present and likely to be impacted by the proposed development;
Quantify levels of existing and potential acidity, if acid sulfate soils (ASSs) were present; and
Determine site-specific environmental conditions that may – together with the progression of development – affect acid generation.
Carborough Downs Rehabilitation Success Criteria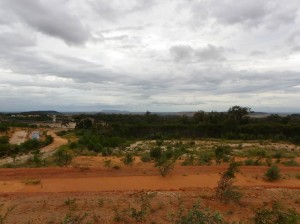 C&R provided Carborough Downs Coal Mine with a rehabilitation management plan and success criteria. One of the major requirements was for the development of "rehabilitation success criteria" to based on an updated inspection of vegetation and soil conditions on site. Instead of providing one set of relatively arbitrary rehabilitation success criteria, our responsive approach included specific sets of rehabilitation success criteria, rehabilitation methods and monitoring methodologies (for the spoil dump, subsidence, tailings, haul road, etc.). This effectively allows the operator to unambiguously classify areas of the mining lease as 'successfully rehabilitated' and reduce the financial assurance applicable to the site.
Because Carborough Downs top soil is generally not appropriate for use in rehabilitation, C&R designed an unique rehabilitation method that results in increased weathering rates and growth media improvement of surface layers of spoil dumps, resulting in in-situ soil development using spoil material, and encouraging the establishment of vegetation and long-term, successful rehabilitation.
Townsville Ring Road Construction Stages 1 through 4
A full understanding of soil and hydraulic factors was required to aid in urban design and construction of the Ring Road. Field investigations were combined with analysis of existing data to assess the soil variability and hydrology along the proposed route. The purposes of this investigation were to: 1) clarify soil profiles and variability along the proposed alignment with respect to physical and inferred physico-chemical properties; 2) assess water levels and areas were there may be a perched water table; 3) collect a range of soil samples for testing along the alignment, where the proposed road would be close to grade; and 4) assist in construction management and define problem areas for road base establishment and physical construction limitations.
Soil and Ecosystem Impact Assessments for EIS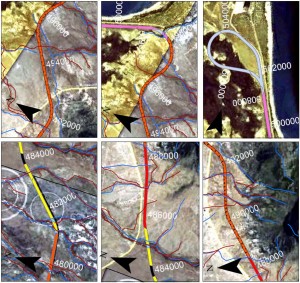 C&R were sub-contracted by Worley Parsons to assist with an EIS on a railway corridor running over 700 km from the Galilee Basin to Abbott Point, north Queensland. The assessment required the determination of the best potential corridor from a selection of slightly differing paths. We perform a detailed assessment of the soil classifications and regional ecosystems along the length of the potential corridors.
The project involved:
The desktop assessment of regional ecosystems (REs) present and mapping of areas inhabited by of concern and endangered REs protected under both state and federal legislation;
Analysis of soil types within the proposed corridors and the relevant engineering requirements for construction;
Conducting geo-referenced video (GRV) transects via a helicopter, and processing the data, linking the video to interactive mapping; and
GIS mapping and spatial analysis of data sets.
Spoil Site Investigations
Investigations of contaminant runoff from spoil sites in Charters Towers were conducted by C&R to provide estimates of metal contaminant concentrations. The receiving waters included the Burdekin River, Burdekin Dam, the designated water supply for irrigated farms in the Burdekin Delta and emergency water supply for the cities of Townsville and Thuringowa.
Mount Stuart Training Area (Townsville)
Investigation into historical waste management and contaminant migration into groundwaters and, subsequently, into the designated emergency water supply. Knowledge of the complex interactions involved in these environments permitted cost-efficient management decisions to be made.