Hydrogeology
C&R expertise in hydrogeology spans all aspects of groundwater science, including groundwater and stygofauna sampling, groundwater mapping, impact assessment, groundwater quality investigation, contamination assessment, hydrogeochemistry interpretation, resource assessment, numerical flow modelling using MODFLOW and solute transport modelling using Geochemist's Workbench (GWB). We specialise in sampling methods that adhere to high standards for sample preservation in remote areas. Get in touch with our hydrogeologist, Sian Kennare, for more details on groundwater services that are a good fit for your needs.
Groundwater sampling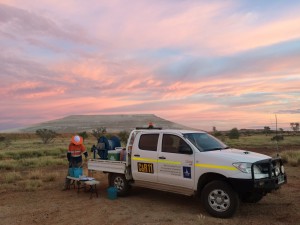 C&R regularly perform groundwater sampling for a number of clients in remote and urban areas for contamination assessment or compliance monitoring. Our staff are highly trained in sample collection and preparation, and field testing of groundwater parameters and can provide practical advice on sampling relevant to your site and requirements.
Groundwater Compliance
C&R's familiarity with the entire life-of-mine process is exemplified through the preparation of numerous Environmental Management Plans, Water Management Plans, Plan of Operations, Audit Statements, Receiving Environment Monitoring Programs and Rehabilitation Management Plans.  C&R staff have also successfully aided clients with groundwater investigations for EIS preparation, EA applications and amendments, and Environmental Evaluations and regular compliance reporting.
Groundwater Impact Investigations
C&R Consulting recently provided our client with an integrated assessment of groundwater in response to a request from the Department of Environment and Heritage Protection for an Environmental Evaluation, incorporating analysis of:
• background reference water quality;
• potential impacts on surface water or groundwater flow;
• changes to hydrogeochemistry and potential contamination sources and pathways; and
• groundwater quality with respect to relevant environmental values.
With recent proposed changes to Queensland underground water legislation coming into effect soon, proponents may be required to provide site-specific information on environmental impacts from groundwater use for Environmental Authority applications and amendments, such as an Underground Water Impact Report (UWI Report). Groundwater impact investigations are also required for the groundwater components of Environmental Impact Statements (EIS).
As these documents are often publicly scrutinised, our experienced hydrogeologists, geochemist and modeller use robust scientific methods to perform these investigations, including numerical flow and geochemical modelling, groundwater mapping and flow analysis, comparison of water chemistry against relevant guidelines, multivariate analysis to discern chemistry trends, spatial and temporal analyses, and identification of potential contamination sources, pathways and receptors.
Bowen Basin Coal Mines: Annual Groundwater Reviews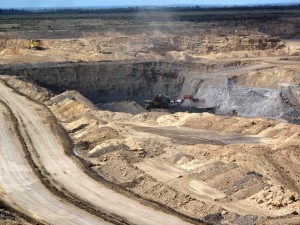 C&R Consulting have developed annual groundwater reviews as a useful tool for coal mining clients who engage us for monitoring throughout the year. These reports are more than an overall picture of the years' monitoring data; they also provide interpretation of the groundwater level and quality results, as well as determining the implications for compliance and operational purposes. These reports include:
• Assessment of the suitability of bore monitoring networks for monitoring impacts from the mine, and recommendations for changes if required.
• Appraisal of the aquifers in-situ and the regional groundwater flow paths.
• Summary of mine groundwater quality assessment, with a detailed analysis of potential water interaction and chemical evolution.
• Clear presentation of geochemistry results that better inform the client of the water quality.
Black River Borefield Sustainability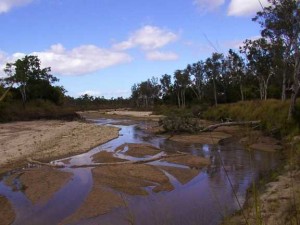 C&R developed a detailed holistic analysis and interpretation of the sustainability of a proposed borefield at a Nickel Refinery. We conducted an assessment of the Black River Borefield to determine the ecological and environmental sustainability in regard to the river system. The study encompassed an investigation into the effects of large scale industrial sand and water extraction, rural residential subdivision and natural geomorphic processes. We assessed the environmental risks and identified variable temporal remediation programmes to aid the client in efficient risk management.